Welcome to the Newberry Candy store.
$14.99 flat rate shipping@ $14.99 shipping option will show when you enter your shipping address at checkout.
Check out our new extended delivery area for fresh fruit items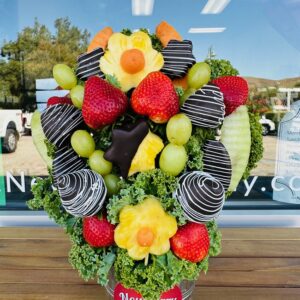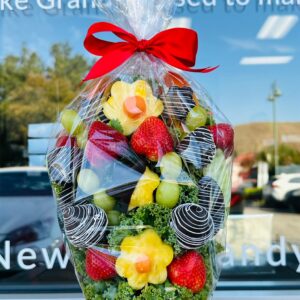 Large chocolate dipped fruit arrangement
Newberry Candy's large fruit arrangement is perfect for that special group that deserves a thank you.
It also makes a perfect center piece for a party!
The arrangement is built in a cute decorative metal bucket that can be used for years to come. It contains and assortment of fresh fruit and some of it is dipped in chocolate. But almost DOUBLE the fruit and chocolate front and back are packed with fruity goodness.
Our current assortment of fruit is strawberries, pineapple, assorted melon, apple slices and grapes. Some dipped in chocolate some left fresh and sweet.
Note: Fruit selection and container may vary. All arrangements are made to order and take a minimum of 2 hours to make.
This item cannot be shipped and must be hand delivered locally. Please see the delivery of fresh fruit for delivery areas page for delivery details. We also offer extended delivery areas for a small fee. All the way out to Malibu!  Simple add the extended delivery fee to your order. Minimum order amount may apply.
not rated
$

99.99
Add to cart